Maintaining the house can be a pain sometimes, especially when we are all busy in our jobs and life in general. But the cool thing is nowadays inventors are coming up with awesome new products that makes our life so much easier. 
In this article we have gathered for you many futuristic and practical innovations that you can find online or through carriers. These fantastic innovations will surely make your life easier and more comfortable, needless to say they will make your friends full of envy.
1. Refrigerator Storage Rack
When your fridge is a mess, finding the right ingredients can take just as long as cooking the meal. Why waste precious time rooting around for what you need when you can keep even the smallest items well organised, using these Organiser Box Racks!
These space-saving boxes aren't just for the refrigerator though, you can use them anywhere! Just think of all the places in your home, garage or office that could use some de-cluttering. Well, these boxes are the perfect way to organise and straighten up all that mess! So easy to install and so convenient, you'll wonder how you ever did without them!
2. Reusable Silicone Stretch Lids
With the leakproof, and airtight Stretchy Reusable Silicone Lids, your food will taste delicious and stay garden fresh! These lids provide an airtight seal to keep your food fresh and prevent messy spills. The lids are perfect for sealing up just about any size container, food item or cup. Durable and safe, with extra thick silicone, these lids won't tear or warp and can be used over and over. They're a must-have item for anyone who wants to save fridge and cabinet space, time cleaning up and use a waste-free alternative!
3. Reusable Jar Bags
Keep food fresh easier, and longer than ever with the revolutionary Reusable Jar Bags. Reusable forever, insert any food and close the top with its zipper-lock seal to create an airtight, leak-proof seal with absolutely zero-waste and without the hassle of sticky, unreliable plastic wrap. The fantastic slim, sleek design is made to save tons of space in your fridge while preventing moisture and dust from getting in, extending the food's shelf life.
4. 

Under Cabinet Storage Rack
Durable and useful, multi-functional hook for convenient storage. Just hang the hook on the shelf, you can place items, removed at any time, very convenient storage. It could be a creative decoration for your home. Great gift for your lover or friends. Can be use for kitchen hanging cabinets , wardrobe partitions, office file cabinets and so on.
5. Kitchen Soap Dispenser
Make washing dishes faster and cleaner, no messy, no dripping and dragging. Fill the soap pump with your favourite detergent and then use the attached sponge to press down on the pump. This will distribute the proper amount of detergent to the sponge. When you need more, just pump another dose of soap.
6. 

Vegetable Herb Stripper
Now you can quickly and conveniently strip herbs, kale, collards, and more in seconds. Simply pull it through the hole in the Herb Stripper that is best suited for the product and the leaves are pulled from stems in seconds.
Cut preparation time in half. Works great with herbs like oregano, rosemary, thyme or tarragon. This tool have eight holes in graduated sizes, fits everything from large kale leaves to slender sprigs of oregano and leaves the tender leaves ready for smoothies, salads or cooking.
7.Multifunctional Rotate Vegetable Cutter
Whenever you're struggling in the kitchen, Rotate Vegetable Cutter makes you feel better. The new vegetable slicer comes with a unique drainage feature that allows you to clean vegetables directly through the drainage system after you've cut them. Skip the tedious cleaning process and make your cleaning easier.
8. DIY Sushi Maker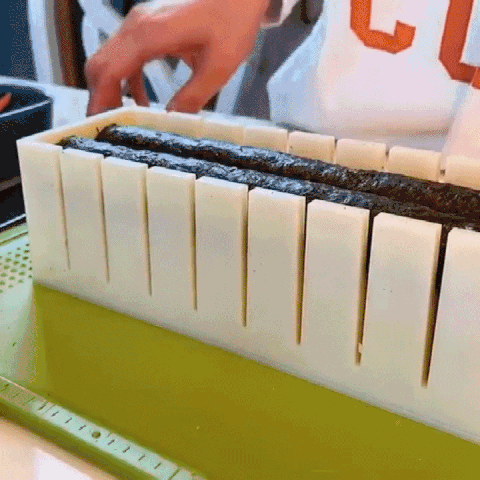 The sushi making set is made of plastic, thick, durable and non-toxic, which can be easily washed & clean. Its come with step by step colorful instruction, first add the nori on the mold's base, and fill it with rice and your favorite ingredients in the molds (you don't need to roll them), then press it into mold shape, and you can get your wonderful homemade Japanese sushi right at home. Easy to handle, sushi making kit is handy for learners at all stages, thus suitable for both restaurant and home use, have fun and enjoy a delicious sushi dinner with your family, or send it to your friends and neighbors as a nice gift.
9. Vegetable/Fruit Peeler With Storage Box
Introducing this Fruit and Vegetable Peeler! This peeler can peel fruits and vegetable easily without the mess. NO MESS The peeler blade is built-in the container, it catches fruit and vegetable skin and stores it in the container. When you're done, just pop the lid out and dispose of. - No Mess! EASY & GOOD GRIP the peeler has an innovative non-slip grip handle that's comfortable for your hands and designed for easy usage. 
10. Magnetic Spice Tins Organizer
The tins feature clear lids for easy identification of spices and feature a sift and pour design. These storage containers have a magnetic backing, so they will attach to any flat metal surface, including most appliance or refrigerator doors. Magnetic spice tins made with advanced magnetic feature which help you to keep them stick with refrigerator oven, stove and any kind of flat metal. The stainless steel base can be attached to the position you want. It is recommended to stick to a smooth surface that will be easier to change over a long period of time. It is best for Best for BBQ seasoning with two type of discharge port which rotate and give you full control of the sprinkle amount. A transparent lid is very convenient for finding the right spice quickly.
11. Vacuum Food Sealer
Do you often store your leftovers unsealed properly? Here's a better way of preserving your food; by using a Vacuum Food Sealer! Gently press the top button to release the air and seal it tight. Never worry about wasting another plate of your favourite dish again! Our Vacuum Food Sealer is perfect for bowls, plates, and even skillets. It doesn't take up too much space and it's practical, stackable, and lightweight.
12. Magnetic Side Rack
Washing utensils might be a tedious and boring task for many; however, we can't skip the same from our daily lives. While washing the utensils we either make them dry by removing excess water using a kitchen cloth. or we store the wet utensils next to the sink allowing them to dry in the air. The former activity calls for spending double time on the task and the latter activity gives the kitchen an untidy appearance and takes up a lot of space. Our target is to save you both space and time while imparting a tidy look to your kitchen. Keeping in mind our target, we bring to you the kitchen Dish Sink Drain Rack.
Made up of 304 stainless steel, the product is exceedingly durable and free from rust.Along with being an amazingly useful kitchen accessory, the product is appealing aesthetically as well. The various components of this Drain Rack are a dish rack, bowl rack, knife holder, chopping board rack, fruit & vegetable basket, a square basket, cutlery holder, and six hooks. The beauty of the product is that you can adjust the placement of these components as per your need. You can even remove components if required.